Blog
|
May 4, 2023
|
4 min read
Understanding the Need for Data Loss Prevention
In today's digital-first world, data drives decisions. Data is a valuable asset for financial institutions that must be protected around the clock—especially since a breach could result in reputational, financial or operational consequences. In CSI's annual Banking Priorities survey, nearly a quarter of bankers (23%) selected data breaches as the top cybersecurity concern for 2023. Data loss prevention tools help institutions keep customer or member data secure.
Check out the full executive report to learn more about bankers' perspectives for the year ahead, including cybersecurity challenges, technology priorities and more.
What is Data Loss Prevention?
Data loss prevention (DLP) software gives institutions control over how their data is shared. DLP tools identify sensitive information and apply policies to prevent data from leaving the system. Institutions can develop their own policies to determine which data is included and ensure that data remains where it should.
Once your institution defines its specific policies or rules, DLP solutions follow them to prevent exposure of sensitive data—intentional or unintentional. This includes preventing data from being copied to online repositories, transferred to a USB device or network locations or even printed.
In short, DLP systems automatically prevent sensitive data from leaving the network, allowing you to stop a breach from occurring.
Why is Data Loss Prevention Important?
Data loss poses a variety of risks for financial institutions, including financial losses, regulatory penalties and customer or member trust. CSI's annual survey results suggest bankers are actively concerned with these risks. As hybrid work becomes more common and critical assets are distributed throughout a network, these concerns will likely grow. In today's digital-first world, data can be stored in multiple places, including the cloud. And remote users often access or store corporate data using their own devices, exacerbating the risk of a breach.
In addition to cloud-based data storage, more institutions are adopting application programming interfaces (APIs), which allow data from multiple systems to seamlessly communicate. By using APIs, institutions can experience gains in efficiencies and automated workflows. However, if an institution fails to conduct proper due diligence before using an API, they run the risk of bypassing critical security controls. This further heightens the need for tools to protect valuable data.
How Does Data Loss Prevention Work?
DLP tools detect sensitive items using deep content analysis, not just a simple text scan. Beyond that, DLP uses machine learning algorithms and other methods to detect content that matches your institution's defined DLP policies. As an example, Microsoft's DLP system can identify when a user:
Uploads an item to a restricted service domain or access an item through a browser
Copies an item or information to removable media or USB device
Prints a protected item to a local or network printer
Copies an item to an unallowed Bluetooth app
Creates or renames an item
With DLP software, institutions can set up permissions for data transfer and track access to ensure only authorized users can send data. DLP software also integrates into other cybersecurity monitoring tools. This integration allows visibility into out-of-network data transfers, whether purposeful, inadvertent or malicious, so an institution can shut it down. Real-time monitoring with DLP software helps institutions respond to data breaches quickly and minimize negative effects.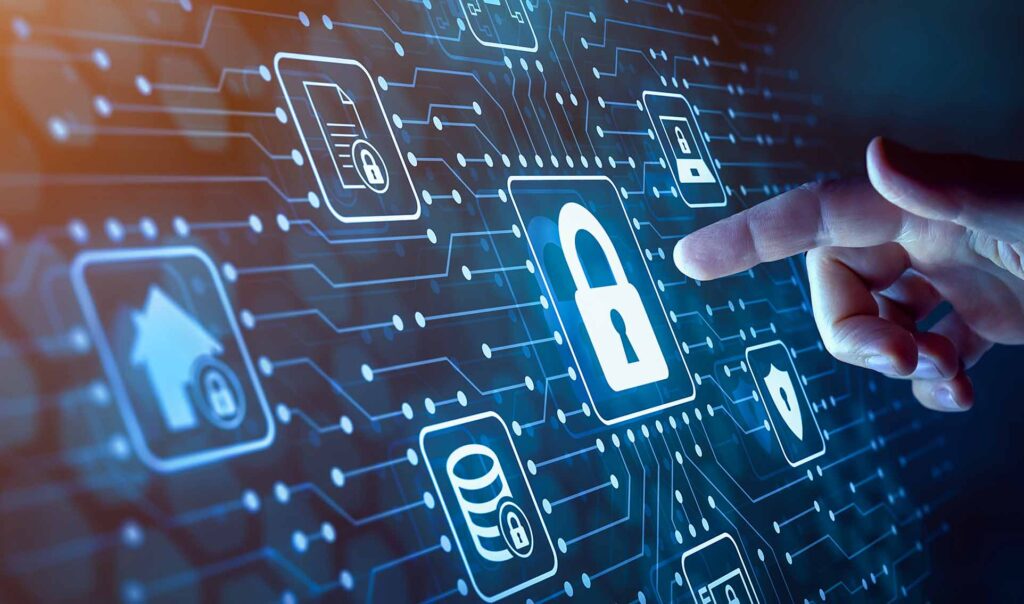 Protecting Your Financial Institution's Data
While some institutions purchase and implement DLP systems in-house, these systems are often difficult to install, configure and maintain. Cloud-native DLP tools are a viable option for most institutions, as they don't take up valuable computing resources. Below are several of the benefits offered by DLP tools.
Prevent data loss: DLP tools identify sensitive data and enforce access policies across all locations where data is stored, including the cloud. That way, if an employee inadvertently tries to share data deemed sensitive, the software recognizes this and prevents the transfer.
Enhance regulatory compliance: Many DLP solutions deliver reports of relevant policy configurations that articulate data management controls. Having a DLP tool in place also demonstrates to auditors and examiners that your institution prioritizes data security, optimizing compliance with relevant industry regulations.
Receive alerts: Since security threats constantly evolve, it's critical to know as soon as possible when violations occur, so your institution can quickly remediate incidents. With DLP solutions, you'll receive policy violation alerts—including data exfiltration or account compromise—as they occur, allowing for real-time incident investigation.
Leverage security experts: With managed DLP solutions, your institution can leverage a trusted third party for incident remediation. If not investigated quickly, you risk a small incident turning into a large security breach. Experts from a third party will also offer additional security tactics, such as firewalls or endpoint protection, to ensure your data remains secure.
Mitigating Data Loss Risks
By leveraging DLP tools, institutions can protect their data and comply with regulatory requirements. With new cyber threats always on the horizon, your institution should embrace a comprehensive approach to data security, and data loss prevention is a key component of such a strategy.
Gain additional insight into bankers' thoughts on cybersecurity threats, compliance and more by downloading CSI's 2023 Banking Priorities Executive Report.
Sean Martin is director of Product Strategy, CSI Business Solutions Group for Managed Services. He has worked to establish cybersecurity programs for financial institutions for over 15 years. Previously, Sean has served as Network and Security Operations Manager, Product Manager, and various engineering roles since 2001. In his role, Sean identifies and implements solutions designed to maximize security and profitability for financial institutions. Sean speaks regularly on a variety of financial technology issues, ranging from managed services to IT security best practices.