Blog
|
Dec. 15, 2022
|
5 min read
Open Banking and Banking as a Service: What's the Difference?
In today's banking industry, there is no shortage of terms that banking professionals must know. Open banking and Banking as a Service (BaaS) are among the more multifaceted, and even seasoned industry experts commonly scratch their heads when understanding them.
These newer banking models have fundamental differences with distinct prerequisites and benefits. But open banking and BaaS also have plenty in common, including their ability to create new opportunities beyond traditional banking.
This blog sifts through the jargon and provides a general guide to understanding the benefits and key differentiators of each model.
Open Banking Explained
Seldom is an entire industry landscape changed by a single innovation. But when it happens, it's indisputable. Just as smartphones, online retail and cloud computing profoundly affected how our society operates, open banking catalyzed the banking and financial technology industry by transforming traditional banking into a broad marketplace of consumable services.
Open banking enables better collaboration between banks and fintech service providers by connecting them with Application Programming Interface (API) software. APIs provide a secure way for institutions to grant the right technology partners access to their data. By working with a partner, the institution can bring new products to market and offer their customers more innovative and valuable financial services.
Institutions that embrace open banking and deploy third-party solutions can leverage data to create seamless processes and deliver continuous innovation. For this reason, open banking is rapidly spreading throughout the financial world, and customers are beginning to expect the features of an open system from their banks. Institutions that don't take advantage of this technology risk losing out to the competition.
To learn more about leveraging open banking trends to transform your institution, check out this on-demand webinar.
How Open Banking Works
An "open" core banking system is made possible through APIs. In many ways, open banking APIs have revolutionized the financial industry by providing new ways for sharing information.
Open banking APIs allow separate applications—and even financial institutions and fintech vendors—to interact with each other and share information. With an API, the software from the bank communicates with the software from the fintech. That way, despite different software, the bank and the fintech share financial data securely, eliminating the need for duplicate entry and time-consuming manual processes.
Open banking also enables a "banking as a platform" approach that consolidates the many aspects of banking into a unified, adaptable hub. With an open API infrastructure at its core, an institution can more readily "plug-in" new features and offerings such as digital banking, faster payments and digital lending.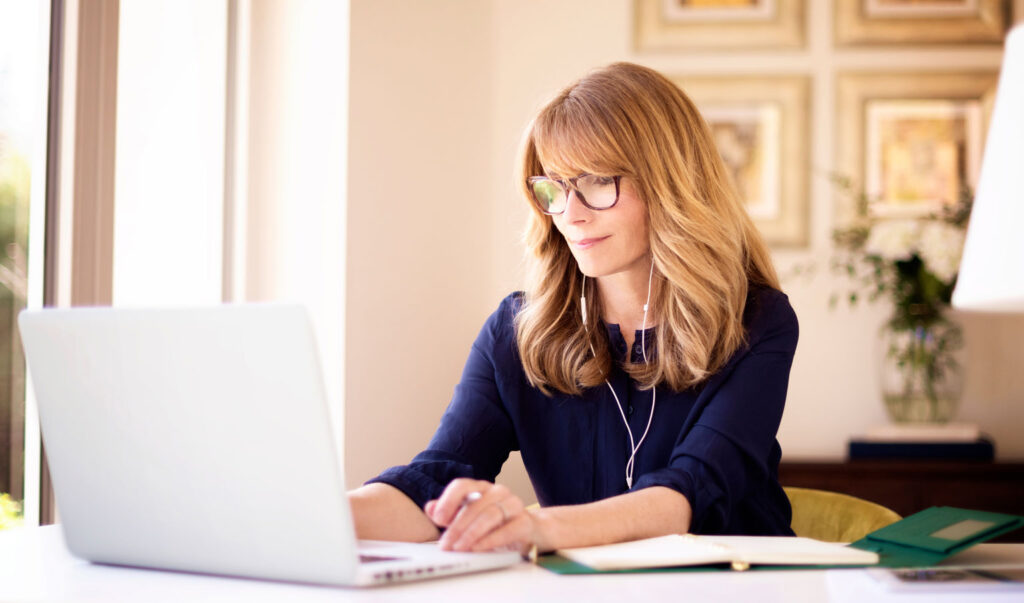 BaaS Explained
While "platform banking" involves a financial institution offering a technology partner's products to its customers, Banking as a Service (BaaS) takes open banking a step further. This model typically involves a financial institution partnering with another fintech, bank or company to share its products and services in new environments or create new products entirely.
At its simplest, the BaaS model involves nonbank companies offering financial services by partnering with a financial institution and utilizing its regulated banking infrastructure. For the many opportunities it poses, attention to BaaS has grown exponentially in recent years. In fact, according to a recent report, the global BaaS market was valued at $2.41 billion in 2020 and is projected to reach $11.34 billion by 2030.
Nonbanks can improve their customer experience, boost revenue and target new and under-represented customer bases by offering financial products and banking services. Potential services include bank accounts and bill payments to digital wallets, buy now pay later and prepaid card issuance. Because there is no shortage of use cases for potential customers, many believe BaaS is a key to future-proofing banks.
How BaaS Works
This end-to-end process varies by case, but there are typically three components involved in a complete BaaS experience:
Traditional, Licensed Banks
Nonbank/Fintechs
BaaS Platform Provider
With BaaS, APIs connect licensed financial institutions and nonbanks/fintech providers. But any company can't simply provide banking services; it must own a banking charter, and such a charter is challenging to obtain. Acquiring a banking license imposes not only significant capital requirements, but more importantly, compliance with strict regulations.
This is where the value of BaaS comes in. As a licensed holder, a bank can lend its charter to a fintech provider for a fee. The fintech then communicates with the bank's infrastructure—otherwise known as the BaaS Platform Provider—to use its financial solutions or capabilities.
By leveraging a BaaS provider, fintech companies can expedite their financial products and services into the marketplace promptly, at a fraction of the cost, and without a charter. Meanwhile, integrating with nonbanks enables financial institutions to capitalize on new revenue streams and expand their product offerings.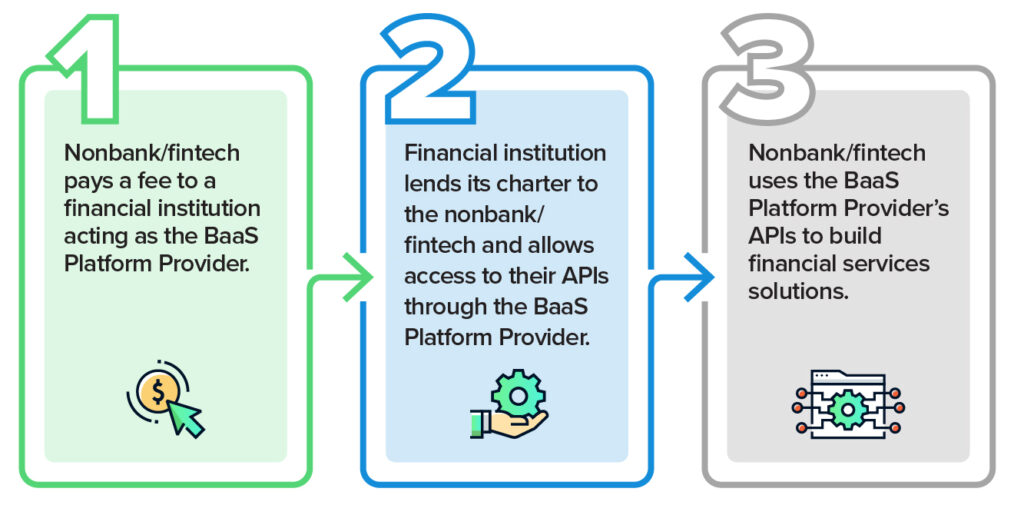 The Main Difference between Open Banking and BaaS
In simple terms, open banking is the framework that makes BaaS possible. It provides rules relating to how fintechs can securely access and process a bank's consumer financial information and data, making banks more competitive by enabling them to collaborate with fintechs to offer a solution that fits the bank's unique needs.
BaaS is a model built on the foundations of the open banking framework. It's a strategy for how banks, fintechs and BaaS providers can collaborate to provide integrated financial services and seamless experiences to consumers.
While open banking and BaaS are made of the same elements, the main difference between the two centers on how APIs are used. Open banking uses APIs to access financial data, whereas
BaaS uses APIs to access banking functionality.
Financial Industry Outlook on Open Banking and BaaS
As risk and regulatory mediators, banks will always be a staple of the global financial system. However, banks that lack the time or expertise to invest in technological advancements stand to gain much from open banking and BaaS.
APIs are changing the banking world by enabling innovation, access, affordability and collaboration—all of which are imperative to compete in this new age. Banks that use APIs to partner with fintechs can offer ready-made solutions or collaborate to create new ones. Ultimately, these game-changing approaches to financial services help financial institutions bridge the legacy gap and leap to what's next.
Watch our on-demand webinar for additional insight into maximizing the power of open banking trends to drive your institution's success.
Shanda Purcell brings more than 25 years of business and product development experience to her role of Sr. Director of Open Banking in the Product Management area. She is currently responsible for working with and leading a team of dynamic and innovative professionals as part of CSI's Open Banking Initiative, which enables banks and partners to connect their current applications with Fintechs and solutions of their choice, helping them stay relevant and competitive in the financial industry.